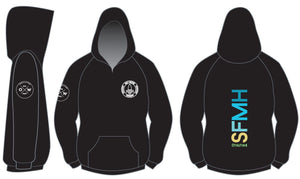 Thanks for landing on our page and choosing to support men's mental health via the One Wave Foundation and Surf for Mental Health.  We are a Young Enterprise business from Lincoln High School.  We are selling these hoodies and donating our net profit to the One Wave Foundation.
By purchasing a hoodie you also get a complementary return bus ticket to join us on October 13th from LHS to Sumner for our Fluro Friday event where we raise awareness for men's mental health. We will all dress up in fluro gear and paddle out to the water to raise awareness and get the community involved as much as possible.
All orders also go into the draw to win a Torq Surfboard from Torpedo 7 valued at RRP $789.99. 
What is the One Wave Foundation, OneWave is a non-profit surf community raising awareness of mental health through a simple recipe…saltwater therapy, surfing and fluro.
Thanks to Youth NZ Ltd for sponsoring the bus transport and surfboard for the event.